SEVEN'S COMMISSIONS
Hi! I'm seven. I'm an illustrator among other things and i like to draw silly characters. My commissions are almost always open unless explicitely stated otherwise! Click prices for pricing, and TOS for stuff i will and won't.
I draw mostly for fun, so my prices are low sometimes.
TERMS OF SERVICE
First and foremost, my goal is to work with my client as much as possible and keep them frequently updated on the commission's progress!

PAYMENT:

Payment through Paypal only
Currency: USD($)
I take payment upfront

WHAT I CAN DRAW:

-Furry
-Feral
-Human or Humanoid
-Fan art or fan characters
-Ships (as long as they're not immoral)
-Any body type, age, etc.
-Simple robots and mecha
-Simple scenery and props
-Almost anything, just ask!

WHAT I WILL NOT DRAW:

-Overly-complex designs (if you're unsure ask me!)
-Complex mecha
-Fetish art of any kind (this falls under NSFW even if you claim it is SFW!)
-NSFW

EXTRA:
A reference image is required for any pre-existing characters i am drawing. I cannot work from description alone, unless it is a custom design
I use a grey background as my default for doodles, so if you'd like a white or other color background please clarify!

REFUNDS:
-NO refunds on finished product.
-If you cancel the commission during the basic sketch stage, you will be issued a refund.
-If I cannot finish or provide the product for any reason, i will issue a refund.

DEADLINES:
-All artwork will be finished in a minimum of 1 day and a maximum of 5 weeks (depends on how busy i am! i tend to work very fast, and i will provide frequent updates!). If i fail to meet this deadline a refund will be issued.

WHAT YOU WILL RECEIVE:
-Digital Illustration
-Full resolution image (PNG format)
-Transparent PNG image (upon request)

DISCLAIMERS:

-I reserve the right to decline any commission request for any reason.
-You have the right to use the final digital image for personal use (print it out for yourself, use it as an icon or banner etc.) with or without credit, though credit is preferred
-You MAY NOT resell the image to third parties (like making prints or merchandise from my artwork for sale or reselling the artwork, exception is if you are selling an OC and the artwork is included)

If you have any other questions, please let me know!
You can DM me on twitter, newgrounds, tumblr, or e-mail me via [email protected]! (tumblr is most effective!)
PRICES
ILLUSTRATION
YOU CAN DM or E-MAIL ME FOR OTHER POSSIBLE COMMISSION WORK!! (such as full pieces or larger projects) AND WE CAN DISCUSS PRICING, but in the meantime here's some pre-set prices for some smaller stuff.
Image transcription:
SEVEN COMMISSIONS
Doodle Page - $15
i get to draw your ocs badly for 15 dollarts ($15 USD, the typo is on purpose :D)
DISCLAIMER: I get to take heavy artistic liberties on doodle page type commissions.
Chibi - $40
will be fully colored with simple shading wherever needed.
$20 - Sketch (+$5 Coloring, +$5 for shading)
Sketch commission type, clean sketch of your character uncolored or with color or shading, simple background only.
Full (Color+Shade) - $60
Fully colored and shaded fullbody piece with simple background or scenery

Every commission type is +$10 per character per image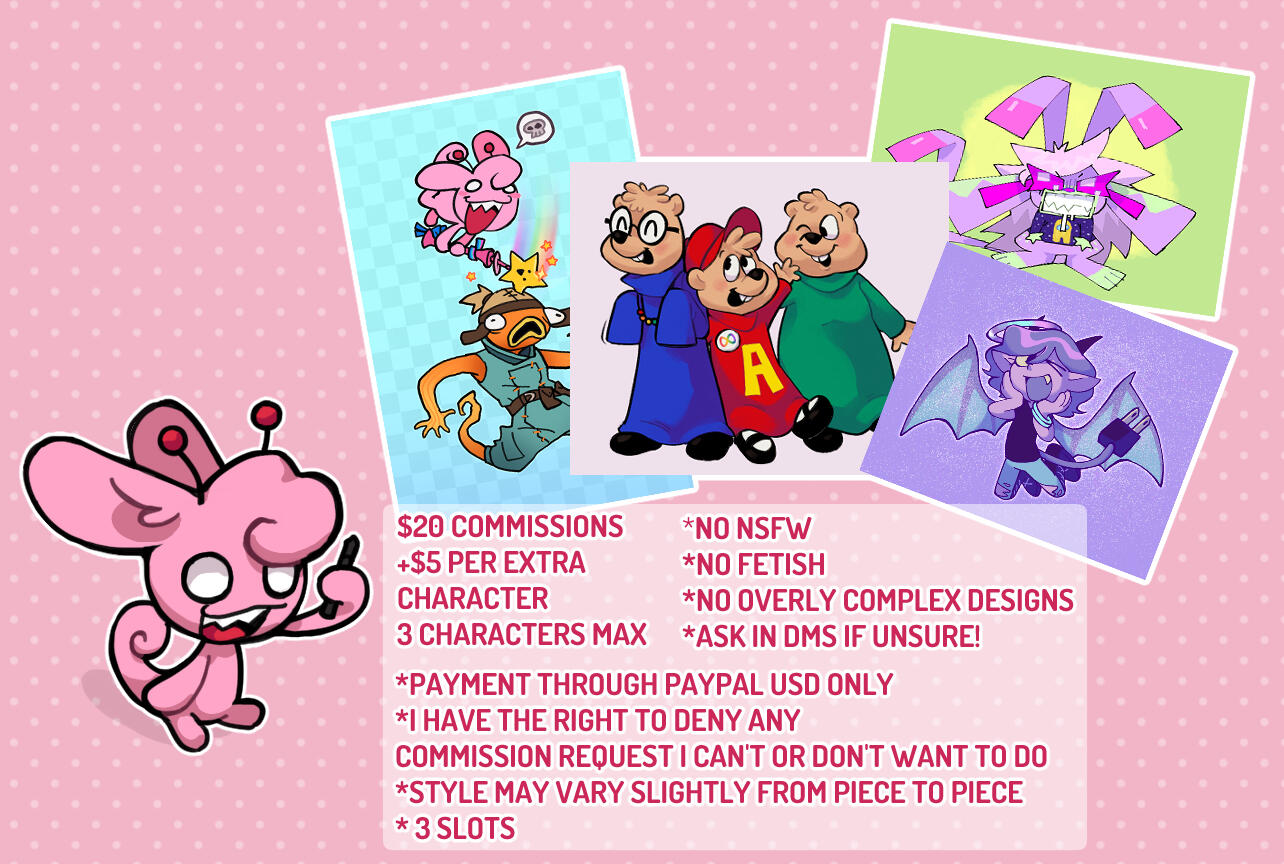 OTHER EXAMPLES:
[NEW!] ANIMATED ICON (500x500)
$40 USD FLAT PRICE!
Animated icon with your character doing a simple expression or animated pose! Can have simple color background or pride flag background!